Whether you work in a hostel, a care home, or a central service team, we want to help you give your best. With access to our Learning & Development programme, you can excel, whatever your role or ambitions.
For instance, we can provide you with the skills and training you need to do a brilliant job every day. If you want to take the next step in your career – perhaps move from a Support Worker to a Team Leader, or beyond - you can do that here too. Our accredited management and leadership programmes are designed to put you on the path to more senior roles. There's also support to move around the organisation, for example, from homelessness to our mental health services, or from our care and support services into a corporate central service role.
Our Learning and Development offer won the Bronze Award for Learning Team of the Year 2017. We're always looking for ways to improve development for our people.
A warm welcome
New starts come with warm welcomes at Look Ahead. There's a local induction where you work, as well as a central, multi-day induction programme where you'll get a grip on all the essentials and have an opportunity to get to know colleagues across the organisation.
Training that meets your needs
Through our training, you can build on your key skills and develop new ones. Training is often related to a specific area of our work or a particular group of customers. For example, our mental health services team can access specialist training on topics as diverse as recovery, crisis prevention, and cognitive behavioural therapy. And because people learn in different ways, we provide everything from classroom-based learning and on-the-job training to e-learning, coaching and mentoring.
Learning from our customers
When our customers share their experiences, we can deliver better services. With our award-winning Expert by Experience (EBE) programme, customers and staff work together to develop and deliver training for hundreds of Look Ahead support colleagues. Current EBE courses include Domestic Abuse, Young People, Mental Health, Substance Misuse, and Asperger Syndrome.
Women in Leadership and Rising Star Awards
To develop our sector's future leaders, we award up to £5,000 of career development funding to two members of staff - one aspiring female staff and also to another person with real potential and promise to help them fulfil their leadership ambitions. Recent recipients have put the award towards an MBA course and specialist training with the prestigious King's Fund.
Career progression in care and support services
You can see here just where your Look Ahead journey could take you. Our Learning and Development programme is made for you to bring out your full potential. Whether you're in our Operations teams or Central Service teams, we can support your growth.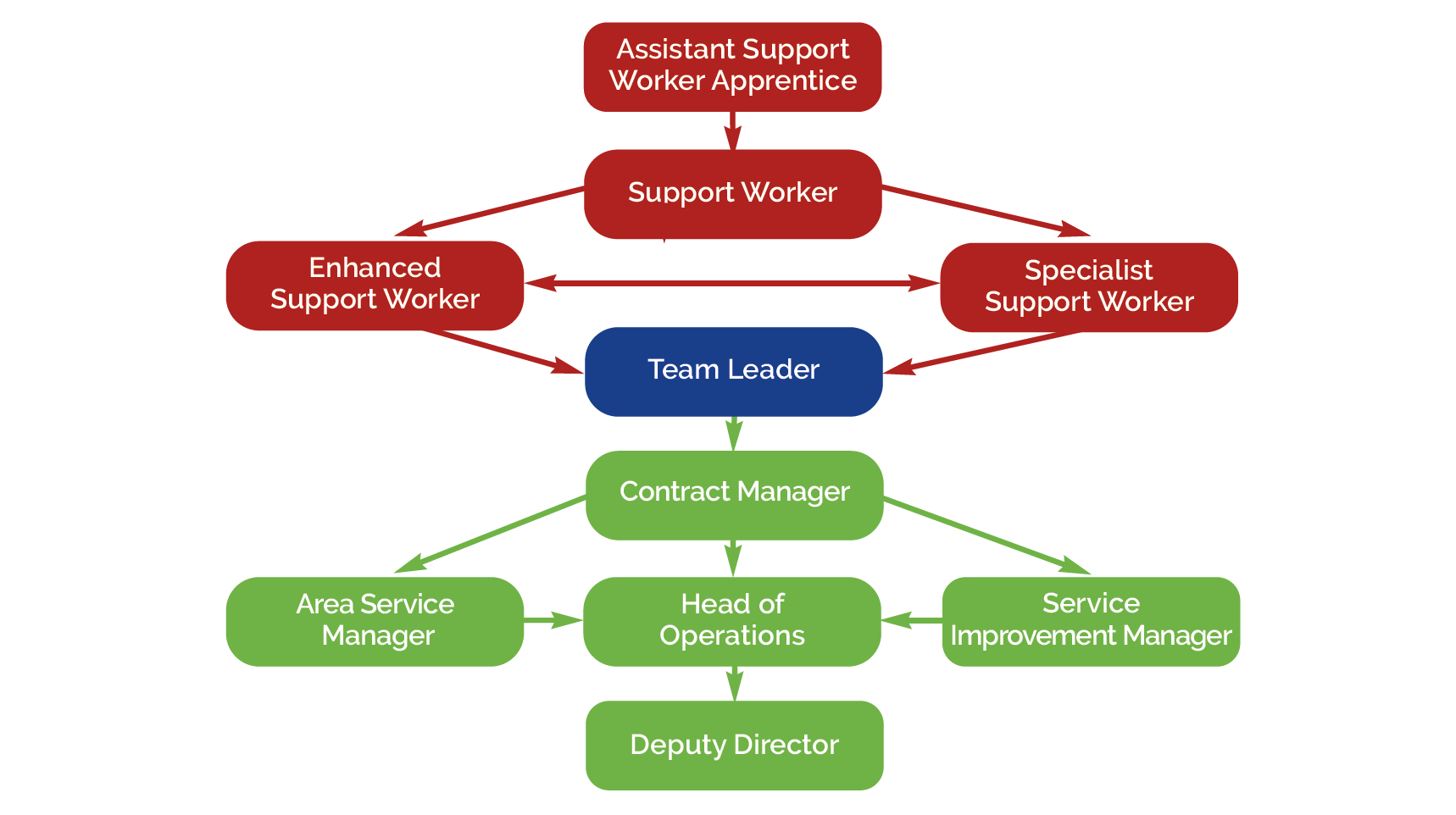 Career progression in central support services
If you are in Central Services, there are opportunities to move to an Operations team and similarly, staff can shift from frontline work to Head Office. We encourage your growth and progression as much as we can.